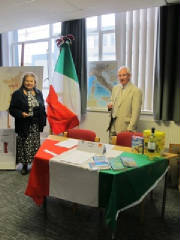 ITALIAN CLUB PROGRAMME 2014-2015
All Talks are in English
Annual subscription £10.00
IMPORTANT INFORMATION
Because of accomodation constraints the
TIME and LOCATION of meetings have been changed.
TIME is 12.00pm to 2.00pm
LOCATION is Conference Room, Level 7 in Graham Hills Building
The Learning in Later Life Students Association is the umbrella group for all clubs in the Senior Studies. Once you are a member of the 3Ls Association (annual subscription £10) you are welcome to join the Italian Club (annual Subscription £10.00)
 

Ann Marie Dimambro

Tally's Blood

Maximilian Fane

Verdi and his role in the Risorgimento




12 th December

£25 per ticket

LUNCH AT 12 noon

Festa Natale

Amore Ristorante - Shuttle Street

Dtr Attilio Monasta

The Machiavelli Approach to Politics

Friday

13th February

Dtr Paul Hare

Mantua and The Gonzaga in the Renaissance




Friday

13th March




RCS

Lunchtime

Concert Party

Friday

10th April




Rebecca Tavener

Ventian Musical Institutions in the 16th/17th&18th Centuries

A G M
AGM
Copies of the agenda for the AGM and minutes of last year's
AGM will be available on the day.
Copies of both are available prior to the date of the
meeting on request from the Club Secretary.
Committee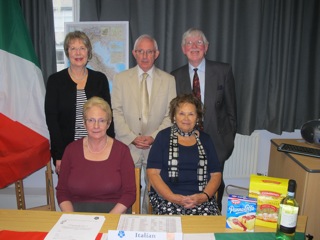 President : Carl Bow carlbow@btinternet.com
Secretary:membership secretary: Nancy Di Paola
nancydipaola@hotmail.com
Treasurer: Sandra Raftery hotshotlenzie@hotmail.co.uk
Members: Therese McCabe. Jennifer Fulton.Ben Ross. Marie Matherson Robin Rankin. Alison Imrie