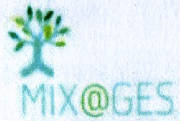 Mix @ges Project - Intergenerational bonding via Creative New Media
Four members of the 3Ls Traditional Music Club shared an exciting intergenerational workshop with three students from the Royal Conservatoire of Music.
The workshop opened up new media experiences to capture and present the result of their lively learning collaboration. The group used camcorders and digital cameras to record the musicians making music together. The recordings were uploaded to the 'mix @ges' musicians' wiki space which was acclaimed a major success by the entire group. The wiki allows everyone to share the transitions in learniing and bonding between generations and the music transmissions are there to be enjoyed.
In the recording studio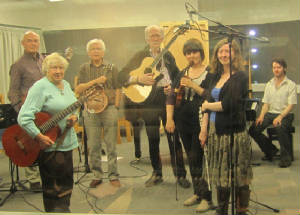 To find out more about the group- click here
To follow the developments of Mix@ges please click here
To read more about the Traditional Music Club click here
For further information about these projects please contact:
Maureen Marley (Project Co-ordinator)
at the Centre for Lifelong Learning Tel 0141 548 4388
...............................................................................
Another popular European experience is the
Summer Senior University at the
University of the Balearics, Palma
Sixteen 3Ls members attended the summer university
between 2nd to 8th September, 2012.
The learning theme was The UNESCO
World Heritage Site: Marjorca's Serra de Tramuntana
- report compiled by 3Ls member, John Parkhill.
To read reports on the Summer University 2012 and 2011 click here